Seems like Kathy Acker is about to become for cultural zeitgeist what Jenny Holzer was several years ago. I know it because as I pass by a bookshop in Berlin, I see Acker's Great Expectations (1982) displayed in the shop window next to The Handmaid's Tale and A Very Stable Genius book on Trump. I enter the shop, and a stack of books with Acker's rasterized face greets me at the entrance, where they place hot new arrivals that are supposed to sell the most. The trend starts to materialize: last year the big exhibition on Acker's life and work at ICA in London, now the new edition of Great Expectations hitting bookshops. Kathy Acker is officially in.
That is not to say that she was completely out before. Once you start digging into the New York literary school of the 1970s, Eileen Myles (who, by the way, wrote the introduction to this new edition of Great Expectations), or William Burroughs (who Acker was friends with), Acker's name comes up quite quickly. Art punks also always loved Acker: for her looks, for being a part of the scene, for performing with Genesis P-Orridge, for being young Kathleen Hanna's idol, for hooking up with Richard Hell (who bragged about it in his memoirs). Looks is what originally attracted my attention to her too, when I first saw pictures of her on Tumblr in 2010s: a hot tough woman with tats, in the gym? I had to read what she had to say.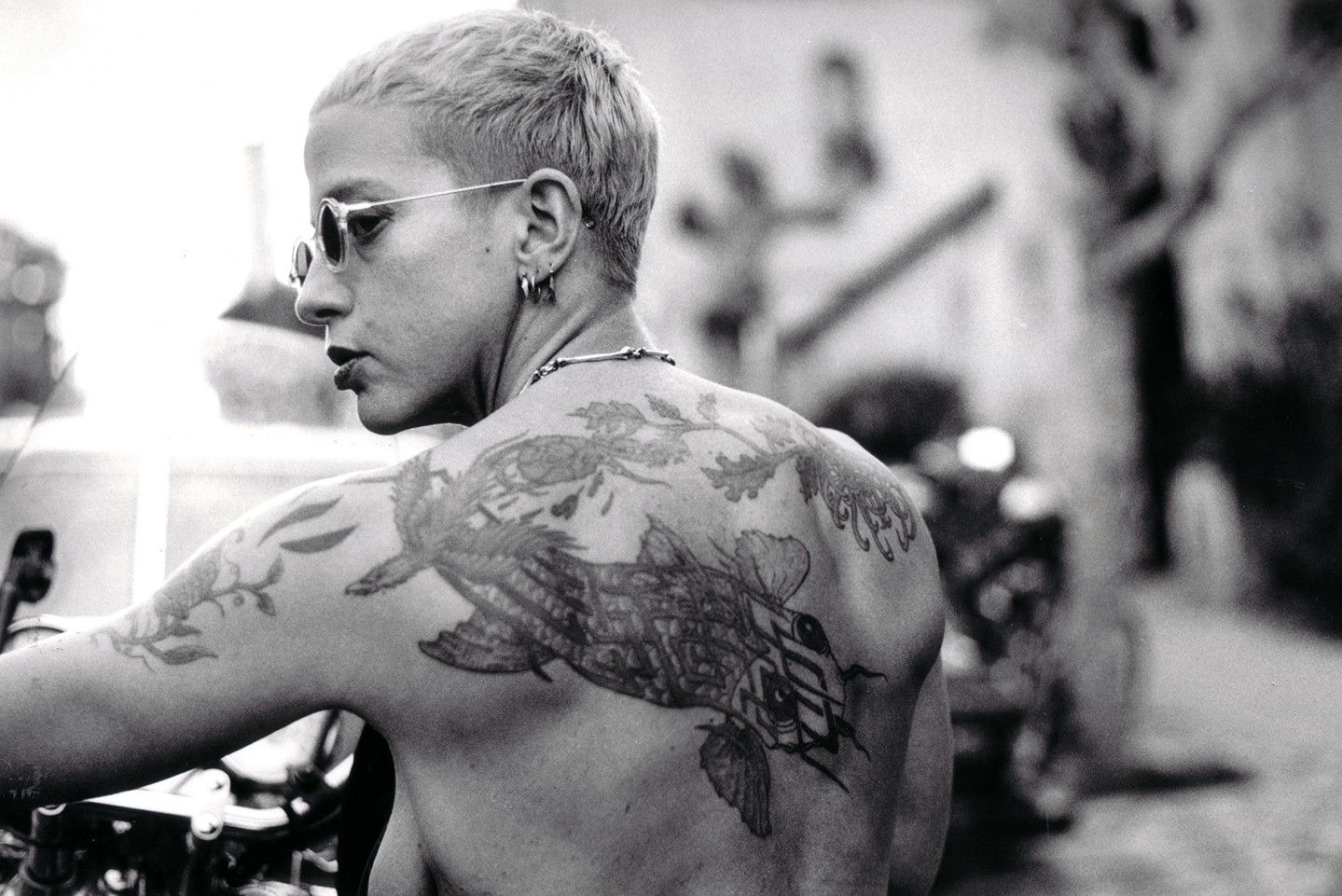 Great Expectations is a crude book, full of sexual abuse, violence, deranged personalities and depraved lives. One of the characters has never met her father because he left after finding out that her mother was pregnant; the mother committed suicide later. Another one is a sex worker with an ovary infection, working in a sex show to be able to pay for painkillers. I say one of the characters, but these two may as well be the same character, for all I know. The narrative is disrupted and fragmented, characters appear out of nowhere without an introduction or proper names. The story jumps from fictional scenes to Acker's autobiographical facts to depictions of war to Roman empire.
Amidst this postmodernist cut-up chaos, some passages in the book resonate with me more than others. A male artist tells his artist girlfriend that she is weak, while he wants a strong feminist. A male artist rips his girlfriend off because he himself is a feminist and believes that the power balance between them is equal. A male artist fucks all female artists he can get to, until a new female artist arrives, the ultimate one – she is from New York. Acker's artists work trucking jobs 50 hours a week and never get to make their art. She knows that they are artists, nonetheless. This was written 40 years ago; feminism weaponized against women by the nice guys™ is not a an invention of our time, and neither is the artist identity with a service job.
Maybe that's why Acker's work all of a sudden started breaching from the underground into the wider cultural context. Or because she, like Holzer, was highly marketable from the get-go. Holzer's Truisms, despite an anti-capitalist message, have a formula of a perfect ad: capital letters, snappy short lines, colorful background, recognizable visual style. From art schools they ended up on shirts and in memes just because they look so damn good. Acker holds the same marketing appeal: her rebel personality of a hot punk woman into BDSM, motorbikes and bodybuilding can alone be a selling point. Add the colorful, aesthetic book covers and the pseudonym Black Tarantula, an epitome of coolness. What does it take for an underground artist who has been dead for over 20 years to suddenly and unpredictably come into fashion with a broader audience? One curator at a big museum who discovers their work. A book written by Chris Kraus (After Kathy Acker, 2017). Or just a strong aesthetic. As Anne Sexton said, content dominates, but style is the master. Wherever this is the case, you bet there's a lot of room for commodification.